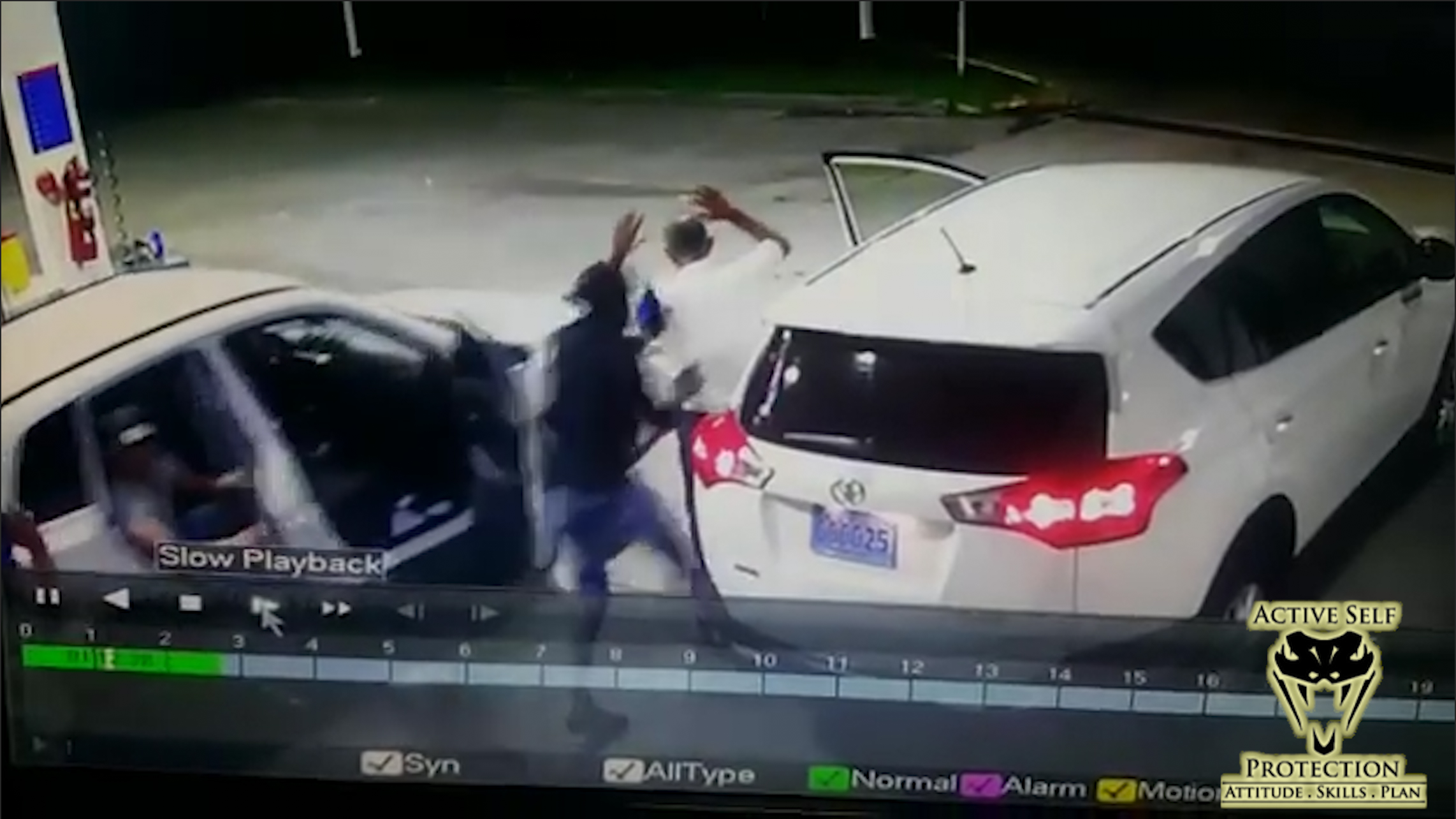 We get to see a carjacking fairly regularly on Active Self Protection. A kidnapping, not nearly so often (thankfully!). Lots of lessons for self-defenders here!
If you value what we do at ASP, would you consider becoming an ASP Patron Member to support the work it takes to make the narrated videos like this kidnapping? https://get-asp.com/patron gives the details.
Original video of the carjacking is available in our Instructor Development Portal.
News story with details on the kidnapping/carjacking (Google Translate required): https://get-asp.com/kbhk
What does this video teach us about defending ourselves against both a carjacking and a kidnapping?
Transitional spaces are places where we MUST be more careful of potential attack. A transitional space is any location that (1) allows attackers to prey on potential victims with an element of surprise and (2) provides ready escape for the attackers. Gas stations are transitional spaces, especially in places where the bad guys like to pile out of cars for a quick carjacking!
In any territorial or predatorial violence, the attacker gets to set the time and circumstances of the attack. They will almost always launch that attack from ambush, or as we like to call it in Umas, from "obscurity." Surviving that ambush is one of the most important keys to successfully defending yourself. This kidnapping developed from the carjacking that was launched from the ambush. Survive the ambush!
Compliance does not at all guarantee your safety in the face of a carjacking. We know, for instance, that rape victims who fight back are no more likely to be harmed than if they don't fight back, and they are less likely to be raped. (study here: https://get-asp.com/601c if you need proof on that) Compliance does not guarantee safety, as placing your safety in the hands of someone willing to commit a felony is a terrible idea. If you go read the news story, this kidnapping victim thankfully lived, though he had to be hospitalized for the severe beating the carjackers gave him.
As well-meaning as police officers are, they cannot protect you from either a carjacking OR a kidnapping. As the old adage says, "When seconds count, the police are only minutes away!" You—and ONLY you—can protect yourself from danger when it comes upon you. A police response time of 5 minutes is considered perfectly acceptable in most suburban departments, and times upwards of 30 minutes can be the norm in rural areas! You need to have the attitude, skills, and plan to protect yourself from harm because the police simply can't.
You must establish some "bright lines" of when you'll fight for your life, no matter the odds. Sometimes it might be best to give in, but there are some situations that are so dire that any odds are better than none. For me, being tied up is one of those bright lines. The second is being taken to a second location in a kidnapping. In those situations I will fight to the death right where I am. You must establish your own "bright lines" of defense that you know it's time to go right now.
There are 3 additional lessons for Patron Members and 3 class starters for Instructors from this ATTACK, so please join us in those programs to see them!
Attitude. Skills. Plan.
(music in the outro courtesy of Bensound at http://www.bensound.com)
Copyright Disclaimer. Under Section 107 of the Copyright Act 1976, allowance is made for "fair use" for purposes such as criticism, comment, news reporting, teaching, scholarship, and research. Fair use is a use permitted by copyright statute that might otherwise be infringing. Non-profit, educational or personal use tips the balance in favor of fair use.
https://activeselfprotection.com/wp-content/uploads/2016/10/kidnapping-preview.jpg
1284
2284
John Correia
https://activeselfprotection.com/wp-content/uploads/2018/03/ASP-Logo4-300x111-300x111.png
John Correia
2016-10-07 08:50:55
2016-10-07 08:51:26
Carjacking Turns into Kidnapping