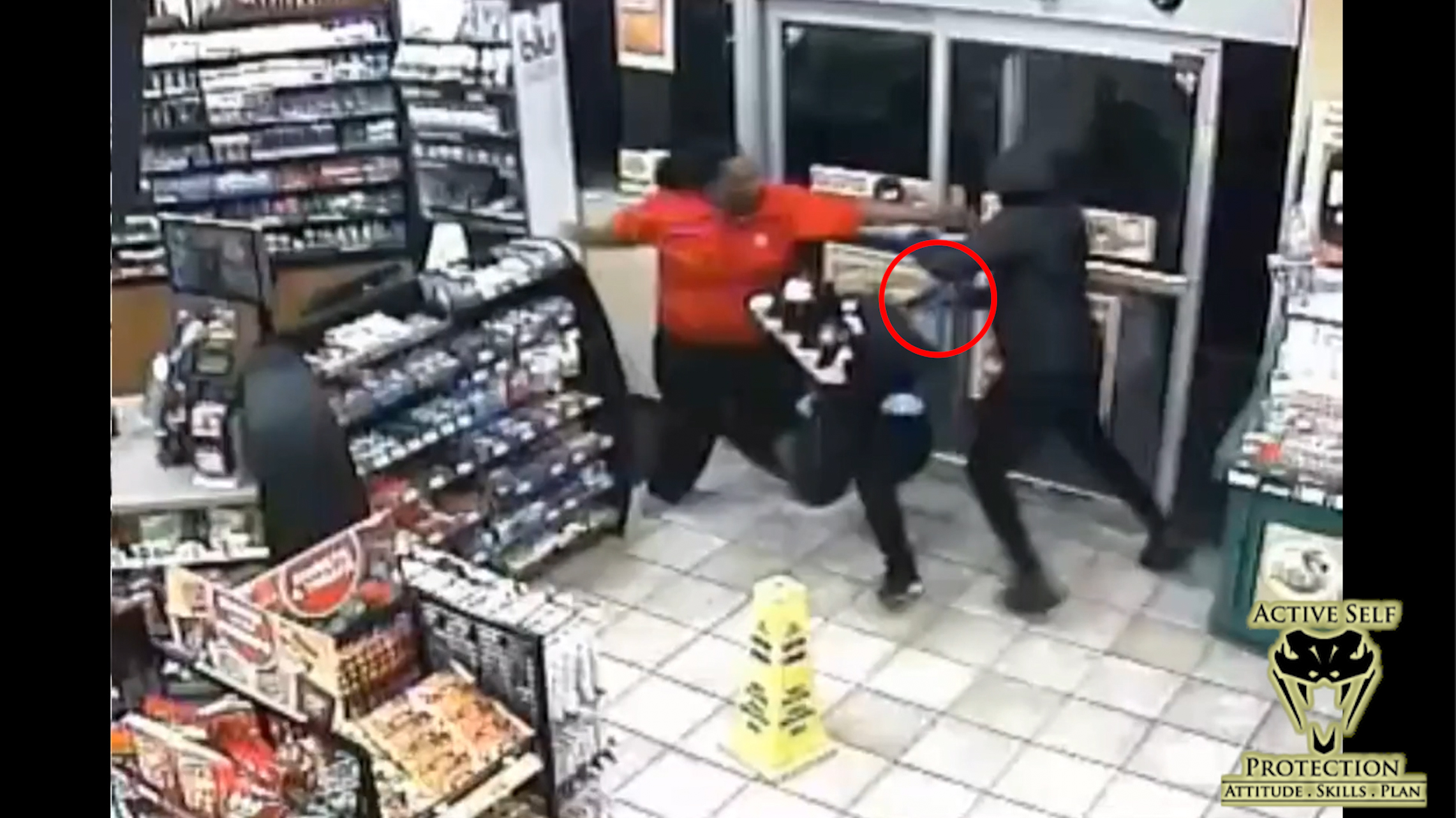 These armed robbers weren't messing around, but the clerk won the day! If your Active Self Protection is ugly but works, then it's beautiful in my book.
If you value what we do at ASP, would you consider becoming an ASP Patron Member to support the work it takes to make the narrated videos like these armed robbers getting worked over? https://get-asp.com/patron gives the details.
Original video of the armed robbers is available in our Instructor Development Portal.
News story with more details from the clerk: https://get-asp.com/z3qt
What does this clerk teach us about defending ourselves against armed robbers?
Transitional spaces are places where we MUST be more careful of potential attack. A transitional space is any location that (1) allows attackers to prey on potential victims with an element of surprise and (2) provides ready escape for the attackers. Convenience stores are all transitional spaces that armed robbers love to hit (hence the funny moniker of "stop and rob"), and clerks especially need to keep that in mind!
In any territorial or predatorial violence, the attackers (like these armed robbers) gets to set the time and circumstances of the attack. They will almost always launch that attack from ambush, or as we like to call it in Umas, from "obscurity." Surviving that ambush is one of the most important keys to successfully defending yourself.
Feigning compliance can be an excellent strategy in an armed robbery to buy you time to find your opportunity to defend yourself. The hands-up, palms-out posture tells the armed robbers that you're compliant, and might give you the opportunity to defend yourself when they stop focusing on you. The clerk used that posture to give signals to the armed robbers that he wasn't a threat, and that's a good strategy!
In a deadly force encounter like these armed robbers presented, decisions of life and death will be made in the blink of an eye. On the range and in class we have time to consider and to think and to reset and to make multiple attempts, but when the balloon goes up in real life you've got fractions of seconds to decide what the best course of action is to protect yourself. The way to be better at decision making in the heat of the moment is training, specifically scenario training and force-on-force training that is designed to work on decision-making skills under stress. It's offered all over the country, so get training!
We must never settle for being able to protect ourselves against a lone attacker because of how common multiple attacker engagements are. Rats travel in packs, so we must always be prepared to face multiple attackers! Having three armed robbers in your face is no small problem, so make sure you know what you're likely to face and train accordingly!
There are 3 additional lessons for Patron Members and 3 class starters for Instructors from this ATTACK, so please join us in those programs to see them!
Attitude. Skills. Plan.
(music in the outro courtesy of Bensound at http://www.bensound.com)
Copyright Disclaimer. Under Section 107 of the Copyright Act 1976, allowance is made for "fair use" for purposes such as criticism, comment, news reporting, teaching, scholarship, and research. Fair use is a use permitted by copyright statute that might otherwise be infringing. Non-profit, educational or personal use tips the balance in favor of fair use.
https://activeselfprotection.com/wp-content/uploads/2016/09/Screenshot-2016-09-15-09.54.25-copy.jpg
1282
2282
John Correia
https://activeselfprotection.com/wp-content/uploads/2018/03/ASP-Logo4-300x111-300x111.png
John Correia
2016-09-15 09:59:34
2016-09-15 10:04:44
Clerk Fights Off Armed Robbers Who Shot at Him