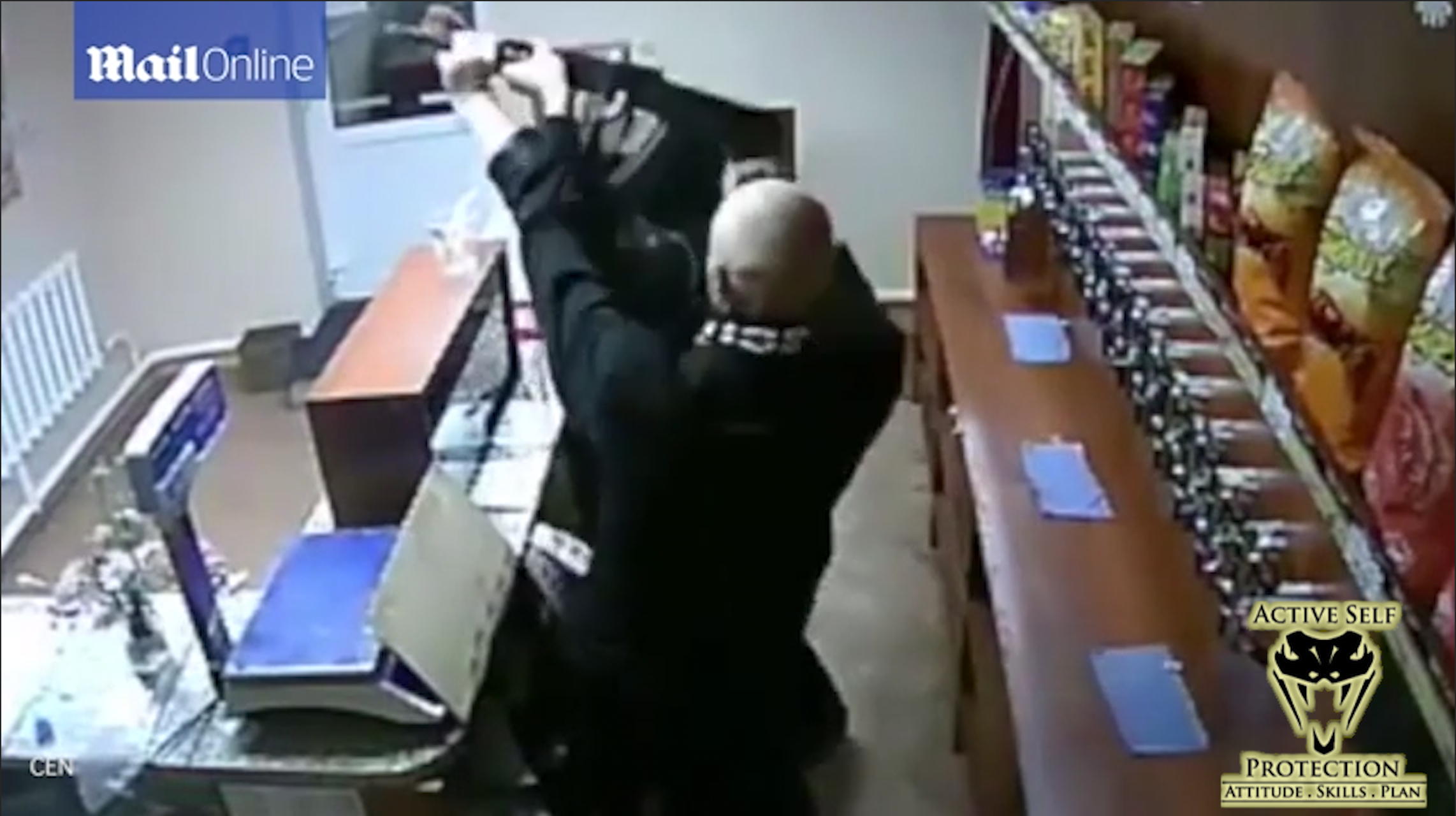 If you're going to fight an armed robber, you better have the Active Self Protection to do so successfully! This woman is lucky that he didn't hurt her worse.
If you value what we do at ASP, would you consider becoming an ASP Patron Member to support the work it takes to make the narrated videos like this armed robber? https://get-asp.com/patron gives the details.
Original video of the armed robber is available in our Instructor Development Portal.
News story with some more on the woman and the armed robber: https://get-asp.com/volh
What does this woman teach us about defending ourselves against an armed robber?
If you do not have the attitude, skills, and plan to protect yourself from an armed robber, then your only option is to submit to their demands and hope it works out for the best. I would never suggest that a helpless person try to defend themselves against a carjacking or armed robber, though of course if it's a matter of life and death you must do whatever you can. The point, though, is not to be a helpless victim! This is the heart of Active Self Protection, to motivate you to train and help you develop the attitude, skills, and plan so that you can choose to protect yourself if it makes sense in the moment rather than being forced into compliance with a violent felon.
Since an armed robber is looking for victims and not fights, they tend to look for vulnerable people to target. Think about a pride of lions chasing wildebeest in Africa and you get the picture. They target the elderly, the young, and the sick for easier attack and greater success. Likewise, criminals pick victims who they think will not effectively resist them, or that the criminal can quickly overwhelm. This includes the elderly, the young (kids and early teens), the sick, and the distracted. Men (the overwhelming majority of attackers) also target women because women tend to be physically weaker than men. If you're in a vulnerable population take extra precaution and train!
In a deadly force encounter, decisions of life and death will be made in the blink of an eye. On the range and in class we have time to consider and to think and to reset and to make multiple attempts, but when the balloon goes up in real life you've got fractions of seconds to decide what the best course of action is to protect yourself. The way to be better at decision making in the heat of the moment is training, specifically scenario training and force-on-force training that is designed to work on decision-making skills under stress. It's offered all over the country, so get training! This woman had some time to think about her response to the armed robber, but when he pointed the gun at her there was no more time to think!
To defend against this kind of attack, you need emotional fitness. Emotional fitness is defined as the ability to internally represent a situation or predicament to yourself in such a way as to make you strong and able to successfully defend yourself against it. Repeated practice and thousands of reps of sparring and self-defense absolutely build your emotional fitness to be able to handle whatever comes your way, be it an armed robber or a carjacker or a rapist.
The "Five Ds Plus 1" are a tool that we use at ASP to organize our training and preparation for defending ourselves against an armed robber when we are not armed ourselves. (or if we are armed but outdrawn such that we must deal with the problem with our hands) First, before the others, we need to control Distance. (it's the plus 1…it stands by itself and is the gateway to the others working) Then Deflect, Dominate, Distract, Disarm, Disable. We pursue them from first to last, in order, to give us the best chance of successfully defending ourselves against an armed opponent. Close the Distance to the place where we can effectively use our empty-handed skills. Deflect their force multiplier, Dominate as much as possible (best is the whole person, second is the arm with the tool, last is the tool itself), Distract the attacker (usually using pain, redirection, movement, etc.), Disarm the attacker, and Disable the attacker.
There are 3 additional lessons for Patron Members and 3 class starters for Instructors from this armed robber, so please join us in those programs to see them!
Attitude. Skills. Plan.
(music in the outro courtesy of Bensound at http://www.bensound.com)
Copyright Disclaimer. Under Section 107 of the Copyright Act 1976, allowance is made for "fair use" for purposes such as criticism, comment, news reporting, teaching, scholarship, and research. Fair use is a use permitted by copyright statute that might otherwise be infringing. Non-profit, educational or personal use tips the balance in favor of fair use.
https://activeselfprotection.com/wp-content/uploads/2016/10/ak-fight-preview.jpg
1280
2284
John Correia
https://activeselfprotection.com/wp-content/uploads/2018/03/ASP-Logo4-300x111-300x111.png
John Correia
2016-10-11 15:38:38
2016-10-11 15:39:09
Woman Fights Rifle-Wielding Armed Robber